January has been a good reading month. 13 books in total, seems quite a good start to the year.
FICTION
1. Matilda  – Roald Dahl.(U.K)
     (Children's Classic)( 1988)

Pages: 240
Format: Ebook (Kindle)
Rating : 4.0 / 5.0
My first read by Roald Dahl ..and it is amazing.. I hated the headmistress right from when she was introduced and almost jumped in joy every time something awful happened to her. Like serves you right you awful old lady 🙂
I am also planning to read all the books mentioned in the book.
2. The Archived – Victoria Schwab.(America)
( Young Adult Fantasy) ( 2013)
Pages: 321
Format: Ebook(Google Play Books)
Ratings: 4.0/5.0
"Imagine a place where the dead rests on shelves like books"

I loved the world and the concept of the book.
It leaves you wanting more.
** SPOILERS**
Although i did not like Mackenzie's character at times, probably because she is this teenager who messes up and you are sitting there and go like no .. no.. that's not cool. LOL
I literally cringed when Owen and Kenzie kissed. Like WTF are you doing Mac.
And OMG don't get me started on WESLEYS AYERS <3. So yea somewhere by the end of the book, the guyliner managed to get a place in my heart. 😀
I enjoyed reading this book. Enough said.
3. Kiss the Girls – James Patterson.(America)
( Mystery – Detective) (1995)

Pages : 458
Format: Ebook (Kindle)
Ratings:  2.0/5.0
I enjoyed the first half of the book, while the second half seemed a little bit too stretched. Although i did like the plot, i don't think it was very well written.
4. Rolling in the Deep – Mira Grant (America)
(Horror) (2015)
Pages : 125
Format: Ebook ( Google Play Books)
Ratings:  4.0/5.0
The only mermaid story i have read till now is the fins trilogy, and ever since then i have yearned to read a good mermaid story, and this novella gave me the chills by the time i was done with this.
The name of the ship – Atargatis was something that really grabbed my attention since that's the name of a mermaid goddess in assyrian mythology and fitted the story very well.
Although there is no mystery what so ever, since you realize it's a mermaid horror story and there are no survivors and the mermaids are not going to be anything like what you have grown up to believe..from the very first page…. this book still managed to give me goosebumps.
5. The Yellow Wallpaper – Charlotte Perkins Gilman (America)
(Classic) (1892)
Pages : 63
Format: Ebook (Kindle)
Ratings:  3.0/5.0
A classic short story about mental illness..
It's written a 100 years from now, but the writing seems timeless.
The Yellow Wallpaper that has been explained in such detail and the take on mental illness in a period where it when it wasn't quite a thing almost gives you the chills.
6. Everything you want me to be – Mindy Mejia(America)
(Mystery) (2017)
Pages : 352
Format: Ebook (Google Play Books)
Ratings:  4.0/5.0
I really loved the suspense that the book had, it always kept me on the edge, guessing who exactly had murdered Hattie.
Even though by the end of the book, i kind of really hated Hattie's character and was glad she was dead. LOL.
NON FICTION

7.  I Am Nujood, Age 10 and Divorced – Nujood Ali (Yemen)
(Non-Fiction) (2010)
Pages : 188
Format: Ebook ( Google Play Books)
Ratings:  3.0/5.0
This is an important, inspiring and heart touching read. There is so much to learn from this book about child marriage, and the tragic life of these little girls and Yemen Culture.
Its disturbing to know a father can be okay with marrying his little ten year old daughter to a 30 year old man, it's even more disturbing to know the 30 year old man is okay with having sex with her. What's even more disturbing is the fact this happens now , in the 20th century and is still happening and they find it okay, just because in islam, mohammed married a nine year old girl. like you gotta to be fucking kidding me.This makes me so angry.
i did not like the part that portrays her family's wrong doings on poverty and how she accepts her family again and her sister's mona and jamila's problems and how her dad is released so soon , and i basically do not like how this book is a real story to begin with.
8. The Fire This Time – Jesmyn Ward(America)
(Non-Fiction) (2016)
Pages : 226
Format: Ebook ( Google Play Books)
Ratings:  4.0/5.0
This book gets you off guard. You know you are going to read about a serious topic, you know it and it still manages to make you feel so helpless and heartbroken and provokes you to think .. to think about racism, and the seriousness of its effects. You think you know what racism is, and then you read these essays .
All the essays significantly stand out. Police brutality and systemic racism has been highlighted throughout the book and i guess what gets me is how nothing has changed still.
This book is so important.
POETRY
9. Rangleela – Piyush Arora. (India)

(Poetry) (2015)
Pages: 100
Format – Ebook ( Kindle Unlimited)
Rating: 2.0/5.0
Most of the poems were really good and heart touching, although i couldn't relate to it much so maybe i did not enjoy it that much.
The one that really stood out to me was the couplet – Shabd
10. Revolting Rhymes – Roald Dahl. (U.K)

    (Poetry) (1982)
Pages: 48
Format – Ebook ( Kindle)
Rating: 4.0/5.0
What a fun book to read. This book has 6 poems and even though all of them are equally nice and amazing. The fact that Roald Dahl has taken 6 of the famous fairytales and turned them into rhymes with this little twist has got me to fall in love with the author's writing style.
My personal favourite was the Red Riding Hood Fairytale, like the twist got me laughing so bad and how it continues in the next poem of the Three Little Pigs is outrageously funny.
I sure did enjoy the part in Goldilocks, where he tells the reader what is wrong with the actual fairy tale and the Story of the Beanstalk where he talks about some hygiene..and of course the cinderella story.. HAHA.. this one made more sense and was far more realistic.
11.The Princess Saves Herself in this One – Amanda Lovelace. (America)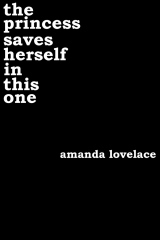 (Poetry) (2016)
Pages: 156
Format – Ebook (Computer)
Rating: 3.0/5.0
I could relate to most of her poems and even though i wanted to take my time to read this, i finished the book pretty soon. Even though the format is pretty annoying i do like it.
I loved the cover and the title and this poem is my favourite:
"There came a time
when poetry showed me
how to bleed without
the demand of blood"
COMICS
12. The Walking Dead: Volume 2 | Miles Behind us – Robert Kirkman (America)

(Comics) (2004)
Pages: 136
Format – Ebook (Computer)
Rating: 4.0/5.0
Don't you see we are surrounded by death!
Amazing. Story. Graphics. Concept.
I like how the walking dead is less about zombies and more about the people that survive and adapt.
13. The Adventures of Tintin, Vol. 1 – Herge (Belgium)
Tintin in the Land of the Soviets / Tintin in the Congo

(Comics) ( 2006)
Pages: 206
Format – Ebook (Computer)
Rating: 3.0/5.0
I have never loved a dog character as much as i have loved Tintin's Dog. His funny and smart and i like how he has this sarcastic tone to his speech.
---
Total Pages Read : 2622